Teamgee is one TAIWAN ODM Tablet pc company. TEAMGEE Super 8 blockbuster launch, lay unshakable position in the tablet pc industry.
Teamgee Super 8
is a tablet that uses Samsung Exynos 5410 Ocata processor. Samsung Exynos 5410 is the world's lead 8-core processor. It adopts maximize high performance quad-core Cortex-A15 CPU and maximize energy efficiency Cortex-A7 CPU design.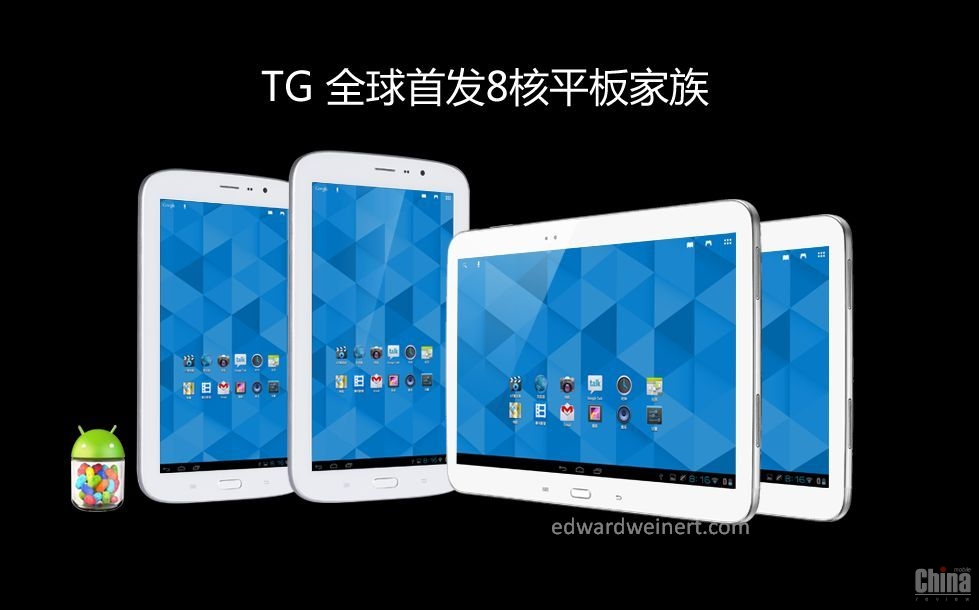 http://newsmartreviews.wordpress.com/
The world's first 8-core – refused to slow as long as WebcamMail
1.8GHz Samsung Exynos 5410 Octa8 core processor, data processing capabilities increase exponentially. 2GB dual-channel high-speed memory, such as super smooth experience DNF 3D accelerated games. Unprecedented tip configuration, and fully meet the gamers as well as those who seek high-end performance. 28nm process technology, compared with 45nm, saving up to 60%.
8.0 inches 178 degree viewing angle IPS screen – a few touch, light and easy to carry
If you want to screen size and portability into account balance, and that 8.0 inches is the best choice! 8.0 inches high definition screen, ISP wide viewing angle design, viewing angle of 178 degrees with a resolution of 1280 * 800, playing games, watching movies, and not inferior.
Perfect screen ratio 16:9
According to ergonomic studies and found that the human eye's field of view is not the two parties, but with a certain percentage of a rectangle, if the golden ratio used in the visual, we will find: 16:9 closer to the film aspect ratio, which allows viewers to get a better visual enjoyment.
8 seconds boot, Speed ​​- do not wait, start really to force
8-core processor system initialization fast, press a key to boot from the finish only eight seconds, super8 enjoy and have fun without a long wait.

Android 4.2-equipped with the latest android 4.2 operating system
android 4.2 for more detail improvements, full support for user-friendly operation, adding a new malware scanning capabilities, comprehensive protection for your safety. Full support for humane handling, the features are handy, ease.
Teamgee Super 8 review: the world's first
8-core tablet
pcEnhanced front camera - ultra high-definition film, enjoy the interpretation of the exclusive micro-film
Front camera 200W, 800W pixel Rear camera, always accurately capture moments of inspiration. 1080P ultra high definition video filming, enjoy the interpretation of the exclusive micro-movies.
3G networks, voice / video calls – Enjoy 3G phone tablet combo
Want to enjoy the large flat-screen experience, has the right to cell phone communication? Just insert a SIM card, you can enjoy high-speed 3G networks, experience high-quality voice and video calls, enjoy communicating with friends and family to do the flat trend of the times people.
Super Dolby Surround – listening sounds of nature, like immersive
Digital three-dimensional effect, moved by the voice of every decibel real reduction, Dolby Surround decoding function, let you enjoy the visual shock, such as immersive!Teamgee Super 8 review: the world's first 8-core tablet pcThree-axis gyroscope, easily manipulated – accurate and sensitive, play the game more fun.
With three-axis gyroscope, we play on the plate as well as first-person shooter game wild drag racing and other athletic games, you can abandon the previous direction keys to control the game through the mode of operation, we simply move the corresponding position on the Tablet PC can flexible manipulation.
GPS navigation
Whenever and wherever you instruct the most correct direction, distance and route planning accurately.
Usb3.0 interface, 10x speed
micro usb3.0 full support for high-speed transfer rate up to 5Gbp / s, is 2.0 to 10 times, a movie in just 10 seconds of 1G able to transfer is completed.
HDMI high-definition interface, 5G transmission
HDMI, high-speed transmission video signals, while eliminating the need for conversion before the data transfer, you can easily put super8 content links to other large equipment on display.
Content Source
:
Teamgee Super 8 review: the world's first 8-core tablet pc | New smart reviews